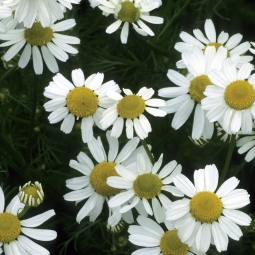 Generalized anxiety disorder (GAD) has a wide array of psychological and physical symptoms. Although prescription drugs can help, they often have undesirable side effects. Many people experiencing symptoms of anxiety do not seek medical attention, turning instead to alternatives. One traditional remedy in widespread use is the herb chamomile. However, scientific evidence to support the use of chamomile for anxiety has been lacking.
NCCAM-funded researchers at the University of Pennsylvania recently conducted a randomized, double-blind, placebo-controlled trial to test the effects of chamomile extract in patients diagnosed with mild to moderate GAD. For 8 weeks, the 57 participants received either chamomile capsules containing 220 mg of pharmaceutical-grade extract from Matricaria recutita (German chamomile), standardized to 1.2 percent of the constituent apigenin; or chamomile-scented placebo capsules containing lactose. The initial dose of one capsule daily was increased to two capsules daily at week 2; dosages were then adjusted incrementally (up to five capsules) in some participants. Researchers used the Hamilton Anxiety Rating (HAM-A) and other tests to measure changes in anxiety symptoms over the course of the study; dosage adjustments were based on HAM-A scores.
Compared with placebo, chamomile was associated with a greater reduction in mean HAM-A scores—the study's primary outcome measure. The difference was clinically meaningful and statistically significant. Chamomile also compared favorably with placebo on other outcome measures (although the differences were not statistically significant), and was well tolerated by participants.
These results suggest that chamomile may have modest benefits for some people with mild to moderate GAD. As this was the first controlled trial of chamomile extract for anxiety, the researchers note that additional studies using larger samples and studying effects for longer periods of time would be helpful. They also point out that other chamomile species, preparations (e.g., extracts standardized to constituents other than apigenin), and formulations (e.g., oil or tea) might produce different results.