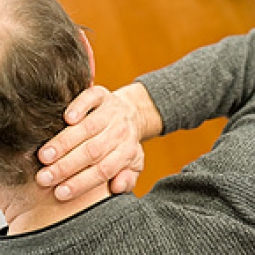 Neck pain is a common health problem in the United States. People suffering from neck pain often turn to complementary health approaches. Although therapeutic massage is one of the most popular complementary health approaches for neck pain, little is known about its effectiveness for this condition.
In an NCCIH-funded study conducted at the Group Health Center in Seattle, 64 adults with neck pain persisting for at least 12 weeks were randomly assigned to receive either massage or a self-care book. The massage group had up to 10 treatments over a 10-week period, provided by licensed practitioners who used a variety of common Swedish and clinical massage techniques and also made typical self-care suggestions. After 4, 10, and 26 weeks, the researchers interviewed participants to assess function (Neck Disability Index), symptom bothersomeness, and other measures.
After 10 weeks, the massage group was more likely than the self-care-book group to have clinically significant improvement in function and symptoms. At 26 weeks, the massage group tended to be more likely to report improvement in function but not in specific symptoms. For both function and symptoms, mean differences between the two groups were strongest at 4 weeks and not evident by 26 weeks. At all followup points, the massage group was more likely than the self-care-book group to report global improvement ratings of "better" or "much better." At 26 weeks, medication use had increased 14 percent for the self-care-book group but had not changed for the massage group. There were no serious adverse experiences reported.
The researchers concluded that therapeutic massage is safe and may have benefits for treating chronic neck pain, at least in the short term. They recommended studies to determine optimal massage treatment, as well as larger, more comprehensive studies to follow patients for at least 1 year.