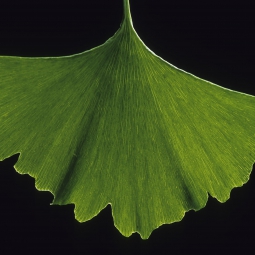 New findings from the Ginkgo Evaluation of Memory (GEM) study show that the herbal supplement Ginkgo biloba did not prevent heart attack, stroke, or death in a group of older adults. However, the herb may reduce the risk of developing peripheral arterial disease (also known as peripheral vascular disease), a painful and potentially life-threatening condition affecting blood circulation in the legs, arms, stomach, and kidneys.
The research, supported in part by NCCAM, was conducted by a team of researchers and published in the journal Circulation: Cardiovascular Quality and Outcomes. The study involved 3,069 participants aged 75 and older who randomly were assigned to take 120 mg of ginkgo or a placebo twice daily for 6 years. The researchers observed 385 patient deaths (150 related to heart disease and stroke), 207 cases of reported chest pain, 164 heart attacks, 151 strokes, and 73 transient ischemic attacks (TIAs, or mini-strokes) among the study population. There were no significant differences between the two groups in any of these outcomes, so the researchers suggest that ginkgo at this daily dosage should not be recommended as a preventive treatment for heart disease or stroke in older adults.
However, the researchers observed 35 cases of peripheral arterial disease. Of these, 23 received placebo and 12 received ginkgo, a difference that was statistically significant. The researchers reported that this finding was consistent with European studies that reported improvements in patients with peripheral arterial disease who received ginkgo versus placebo. But, due to the small number of patients in whom this was seen, the researchers suggest larger trials to evaluate the herb before they would recommend it as a treatment for peripheral arterial disease.
This study was a planned secondary outcome of the GEM study. Previous results of the GEM study showed that ginkgo had no effect on dementia.