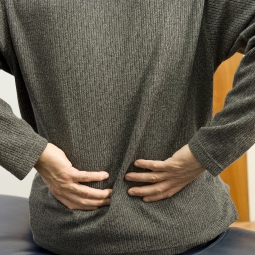 This issue of the digest summarizes current scientific evidence about spinal manipulation, acupuncture, massage, and yoga, the complementary approaches most often used by people for chronic low back pain.
Evidence-based clinical practice guidelines from the American College of Physicians and the American Pain Society (ACP/APS) provide a useful algorithm for diagnosis and treatment of patients with chronic low back pain. In general, the guidelines recommend a conservative approach to diagnosis and treatment, except when patients have progressive neurologic deficits or cauda equina syndrome, or are suspected of having underlying conditions requiring urgent intervention (e.g., vertebral infection or cancer with impending spinal cord compression).
The systematic review supporting these recommendations (Cho and Huffman, Ann Intern Med. 2007;147(7):492–504) found:

Good evidence that cognitive-behavioral therapy, exercise, spinal manipulation, and interdisciplinary rehabilitation are all moderately effective for chronic or subacute (>4 weeks' duration) low back pain.
Fair evidence that acupuncture, massage, yoga (Viniyoga), and functional restoration are also effective for chronic low back pain.

The guidelines recommend that practitioners consider these non-pharmacological interventions as appropriate options when treating patients whose low-back pain does not improve with more conservative self-care.
Interpreting and summarizing current evidence about diagnosis and treatment of chronic low back pain is particularly challenging because of major differences in patient populations, eligibility criteria, diagnostic studies, treatments, and outcome measures across different studies, and the variety of health care professions involved in care of patients. Learn about NIH initiatives to address this problem.
Time to Talk Tips: 5 Things To Know About Chronic Low-Back Pain and Complementary Health Practices
Information for Your Patients